MPC - The Digital Commerce Event
Board of Advisors
Larry Berlin
Founder and Principal
Blue Point Advisory Services
Larry Berlin is founder and principal at Blue Point Advisory Services, a boutique consulting firm specializing in fundraising, strategy, marketing, board relations, accounting, and finance. Vertical areas include card processing, bank software, financial and consumer products, cloud services, government services, and food-related products. Larry has been a mentor/coach in the University of Chicago's New Venture Challenge at the Booth School of Business since 2017, helping 30 student teams each year build businesses and gain funding from the venture community. Larry serves on multiple boards and charitable institutions and earned his bachelor's and MBA degrees from the University of Chicago.
Shailesh Chaudhry
General Manager, Consumer Industries, Networking and Edge Compute Group
Intel
I am an accomplished business transformation executive with 25 years of increasing responsibility for high-stakes business development at Intel Corporation. I'm widely recognized as a visionary and change-agent, and a highly strategic thinker and problem solver. My work leverages deep expertise in IoT technologies, silicon architecture, and software and application ecosystems. During the past 12 years, I've helped lead Intel's IoT-related business strategies by thinking outside the box, by building and leading high-performance teams, and by engaging top-tier strategic partners to develop innovative, intelligent solutions for retail environments on a global basis. I've successfully repositioned Intel as an innovator, thought leader, and trusted business partner in technology-based retail solutions. I'm adept at building teams that create impact by understanding and managing the challenges in creating solutions that bridge the user experience with advanced semiconductor technology. These efforts have helped drive substantial revenue growth within Intel's IoT business, and I've been honored with both peer and corporate recognition, including Intel's Achievement Award. I'm highly motivated by the opportunity to make a difference – whether helping my employees grow, helping customers solve their problems or initiatives to grow our business.
Core Areas of Expertise: • Product Management • Business Strategy Formulation • Cross-Functional Collaboration • Team Leadership • Mentoring & Coaching • Strategic Marketing • Ecosystem Development • Thought Leadership • Business Incubation • Internet of Things (IoT) • Problem Solving • Retail Vertical Expertise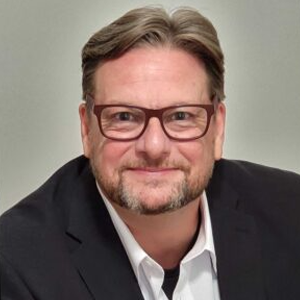 Travis Dulaney
President
Timeis.io
A highly accomplished senior leader who is successful in building and motivating dynamic global teams and delivering positive and meaningful change. Excellent analytical skills, keen attention to detail, ability to analyze situations, and research information to develop sound and ethical business solutions.
Entrepreneurial expertise with a history of accomplishments and know-how in the area of FinTech and, most especially, real-time payments. Continuously demonstrating repeated success leading the design, development, and implementation of strategic and business re-engineering and digital transformations. I am results-oriented and proactive in finding opportunities for improvement and delivery of digital strategy that delivers winning corporate solutions.
Peter Gordon
EVP, Emerging Payments Product & Strategy
U.S. Bank
25+ years of experience in financial services with payment leadership roles at Mastercard, Santander, FIS, and RBS Citizens and industry leadership roles at eCom Advisors and the Federal Reserve's Faster Payments Steering Committee and Board experience at The Clearing House and First Commons Bank. He is widely recognized as a leading strategic, entrepreneurial global expert in payments and banking.
• Expert on real-time payments and modernizing US payment infrastructure
• Launched PayNet for FIS, the first global, real-time, U.S. payments network
• Leader in global ACH and real-time payment transformation
• Founder and former board member of First Commons Bank
• Former Federal Reserve Faster Payments Task Force Steering Committee member
• Specialties include: global bank payments, real-time ACH, merchant acquiring, financial technology, core processing, digital, mobile banking
Will Hernandez
Media Strategist
BackBay Communications
Will Hernandez is a Media Strategist in the Financial Technology group at BackBay Communications in Boston. Prior to joining BackBay, Will covered the banking, fintech, and payments industries for 12 years, most recently as a technology reporter at American Banker. He also served as the editor for Mobile Payments Today for almost five years. Will graduated from St. John's University in New York City with a B.S. in Journalism. Will started his 20-year journalism career as a sportswriter for a small newspaper in Eastern Connecticut
• Specialties include: global bank payments, real-time ACH, merchant acquiring, financial technology, core processing, digital, mobile banking
David Lott
Payments Risk Expert
Federal Reserve Bank of Atlanta
Dave Lott, a retail payments expert with the Retail Payments Risk Forum of the Federal Reserve Bank of Atlanta, has more than 40 years of retail banking and payments experience. At the Retail Payments Risk Forum, Dave assists payments stakeholders in researching emerging and existing payment systems, products, and risk mitigation strategies, with a focus on customer, transaction, and data security issues. With expertise in card and payment technologies, including ATMs, e-commerce, and call center delivery channels, Dave participates in several inter-agency and intra-Federal Reserve System working groups and has recently helped the ANSI X9A team develop a technical review paper on CNP fraud.
Jordan McKee
Director, Fintech Research & Advisory Group
S&P Global
Jordan McKee leads a newly formed fintech research and advisory group within S&P Global Market Intelligence's Technology, Media and Telecoms (TMT) organization. As an analyst, his research focuses on digital payments and enterprise payments strategies. For nearly a decade Jordan's research agenda has provided guidance on emerging technologies and disruptive forces impacting the end-to-end payments value chain. His research and analysis helps enterprises, investors, payment networks, issuing and acquiring banks, payment processors, and other payments industry stakeholders navigate change and market disruption.
Jordan joined 451 Research with the company's acquisition of IT research firm Yankee Group, where he led the mobile money practice. Before joining 451 Research he worked at OnProcess Technology, helping telecom and financial services businesses improve their customer experience and service supply chain strategies. Prior to this he was a market researcher at FM Global, a Fortune 500 insurance company.
Jordan is listed on the Electronic Transactions Association's Forty Under 40 list. He is frequently engaged by the media to share his insights and has been quoted in the Wall Street Journal, New York Times, Forbes, TIME, Businessweek and The Financial Times. He has also appeared on radio and television interviews with the Associated Press and CBS. McKee is a regular speaker at client and industry events, delivering keynotes and moderating panels at SXSW, Money20/20, Interop and ETA TRANSACT.
Additionally, Jordan is a Forbes fintech contributor and sits on the board of advisors for the Mobile Payments Conference. Jordan holds a bachelor's degree with a concentration in marketing from Bryant University.
Greg Wilfahrt
Chief Mobility & Marketing Officer
AP Technology
Greg Wilfahrt is the Chief Mobility and Marketing Officer at AP Technology. He has been immersed in the marketing of mobility, payments, entertainment, and technology for 25+ years. Greg started and managed six start-ups, including a wireless communications company with nearly 60 million users, achieving mobile billing integration with wireless carriers in 187 countries. Author of the "Global Mobile Consumers Bill of Rights," and co-author of AP Technology's "Mobile Payments Bill of Rights," Greg Wilfahrt's commentaries on mobility, marketing, payments, content distribution, entertainment, and technology have appeared on/in CNBC Europe, FOX News, NY Times, Forbes, BBC, Businessweek, and other international news outlets. Greg has spoken at conferences such as AFP, CTIA, Global Mobile, NACHA Smarter Faster, Mobile Payments Conference, Mobile World Congress, Transact (by ETA), iHollywood Forums, Connections, and more.